Natural Woven Wood Shades in St. Petersburg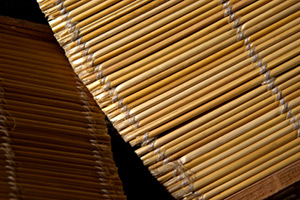 Tired of cheap store-bought shades? Visit Gator Blinds today and let us show you the benefits of authentic custom designed woven wood shades. Hand-made from a variety of reeds, grasses, jute, and woods, woven wood shades are available in a wide array of styles, that provide the perfect filtering from the sun and create a warm natural atmosphere in any room. Ideal for kitchen, bathrooms, and enclosed decks, you'll enjoy the natural tones and neutral colors that woven wood provide. All woven wood shades are crafted from the strongest, most durable materials anywhere in the industry. With quality construction you'll discover that our woven wood shades do not stretch, bow, break or fade.
Why Woven Wood?
Woven wood is constructed from organic safe renewable materials such as bamboo, jute, grass, and wood. These environmentally safe materials give your room an all-natural appeal and are perfect for relaxing environments. Most woven wood shades come in beautiful neutral colors that range from light tones that compliment your furniture and brighten your room to dark wood and bold colors that accent all your decor. You can coordinate your shades with other shades, curtains or drapes in order to design the perfect window setting.
Woven Wood Shade Features
Our woven wood shades feature authentic natural textures, reeds, grasses and woods that have a distinct style all their own. Each pattern comes with privacy liners or blackout liners in order to maximize the level of privacy you need from your shade. Bamboo shades are durable and mounted on a solid wood head rail which gives them the reinforcement they need for day to day use. They are extremely easy to operate, easy to clean, and require very little maintenance. Contact us today to discover all the options that woven wood shades have to offer.
Get Your Woven Wood Shades Professionally Mounted
At Gator Blinds we provide comprehensive window covering service. This includes helping you pick out your shades, delivering them straight to your doorstep, and then implementing them into your window or on the wall. This saves you the hassle of either having to do it yourself or call a separate company to come out and mount the shades. Our delivery is prompt and our installation is fast and easy. We also provide this service at a very affordable rate in order to stay within your budget. When your shades are installed professionally you'll love the results!
Go With The Professionals
If you are less than satisfied with department store shades, then it's time to discover all the features and benefits of quality products and superior service. With Gator Blinds you get the benefit of working with trained professional with 15 years of certified window covering experience. We are dedicated to providing you with exceptional customer service and products of the highest quality anywhere in the industry. Call or visit us today and find out why we are the St. Petersburg shutter company premier source for woven wood shades.
St. Petersburg Shutter Company Provides These Services
Woven Wood Shades
Custom Wood Shades
Cordless Wood Shades
Woven Wood Shades Installation
Roman Wood Shades
Real Woven Wood Shades
Woven Wood Shades Company
Woven Wood Shades
Bamboo Wood Shades
Matchstick Wood Shades
Dark Wood Shades
Woven Wood Shades
If you are looking for a St. Petersburg shutter company for shades then please call Gator Blinds at 813 776 4889 or complete our online request form.
Recent Articles
Are you looking beyond blinds, shades, and shutters and considering layering? This write-up tells you what layering does to your décor and how it adds to functionality. It adds dimension and brings style into your space. Privacy and light control functions go to the next level also. The most combination …

Continue reading "Layering – What is, and will always be, in trend in Window Covering"

The market is full of options for window coverings. There are options to suit modern, traditional, contemporary, décor, and window shapes – octagonal, triangular, round, size, etc. Choosing the window treatment is more than matching them with the room aesthetics; they must also serve the functional purpose. Solar Shades are …

Continue reading "Solar Shades offer the best Insulation"