Wood Blinds in St. Petersburg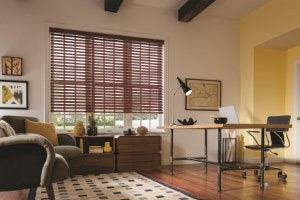 With a great selection of designs, stains, and materials, wood blinds are the idea candidate for your home interior. At Gator Blinds we offer premier wood blinds that enhance any environment and give it a distinctive style. We are a comprehensive window covering company that offers a full line of products and services for all homeowners across Southeastern Florida. Whether you need personalized design and ordering, consultation, delivery or installation we can help you from start to finish. We are your St. Petersburg shutter company who is locally trusted as your window treatment specialists.
Attractive Wood Blind Finishes
With wood blinds, there are unlimited options. You can choose from a wide range of designs that include standard white to mahogany, cherry, and a great selection of stains to match. With all the choices available, you'll be able to discover natural wood blinds to match any room in your house. Wood blinds offer the ideal finishing touch to all your home or business interior decor and furniture. At Gator Blinds we make it easy for you get custom wood blinds that are the perfect colors, style, and size.
Features and Benefits of Wood Blinds
Modern wood blinds come with multiple distinctive features that are perfect for opening & closing, maintaining and cleaning. You can install blinds that have a standard lift system complete with a cord on the side. Contemporary blinds now come with whole slates with no holes so that you receive full privacy. There are other great features available such as motorized wood blinds that are operated from a wall panel or by remote control. You can also get cordless wood blinds for the ultimate clean design with more space. Having all these options available plus the beauty of natural wood make wood blinds an irresistible choice for you.
We Offer Full Delivery and Installation
Having your wood blinds installed by a professional far outweighs attempting to undertake a DIY project. At Gator Blinds we offer efficient, dependable and affordable delivery and installation of all your new wood blinds. With a team of experienced contractors, your wood blinds will get a solid mounting with a pro finish so that your wall is not damaged in the process. All installations are performed precisely as you wish and all blind sizes and dimensions fit your windows perfectly. Rather than wasting time and money attempting to mount your new wood blinds yourself, call our team today and let us get it done in half the time with amazing results.
Go With The Pros
When you hire Gator Blinds you partner with a company that has 15 years of window treatment experience. You also get the benefit of having options that you can't find by buying generic products from a store. Our wood blinds are built with the highest quality materials while offering first rate delivery and installation service to all our clients. Investing in window covering doesn't have to be a hassle. At Gator Blinds we make getting wood blinds easier than ever. We are the wood blind specialists in St. Petersburg.
St. Petersburg Shutter Company Provides These Services
Wood Blinds
Custom Blinds
Cordless Blinds
Wood Window Blinds
Vertical Blinds
Real Wood Blinds
Wood Vertical Blinds
Dark Wood Blinds
Wood Blind Installation
Wood Blind Company
St. Petersburg Blinds
Blinds in St. Petersburg
If you are looking for a St. Petersburg shutter company for wood blinds then please call Gator Blinds at 813 776 4889 or complete our online request form.
Recent Articles
Are you looking beyond blinds, shades, and shutters and considering layering? This write-up tells you what layering does to your décor and how it adds to functionality. It adds dimension and brings style into your space. Privacy and light control functions go to the next level also. The most combination …

Continue reading "Layering – What is, and will always be, in trend in Window Covering"

The market is full of options for window coverings. There are options to suit modern, traditional, contemporary, décor, and window shapes – octagonal, triangular, round, size, etc. Choosing the window treatment is more than matching them with the room aesthetics; they must also serve the functional purpose. Solar Shades are …

Continue reading "Solar Shades offer the best Insulation"