Best Window Film Specialists in St. Petersburg, FL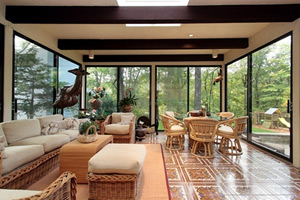 With all the different types of window treatment on the market today, window film is the smart choice for any Florida home owner. It provides exceptional UV protection for your home's interior while giving you a contemporary vibe that works great in any room. It's a great supplement to any central air system, which will help you save money on your energy bill each month. Window film can be custom created to match your current room design. If you're looking for a completely unique alternative to traditional window treatment while enjoying a full panoramic view, then window film from your St. Petersburg shutter company is for you.
Why Film is a Great Choice
Window film has striking features that distinguish it from blinds, shades, or shutters. It's specifically designed to reflect solar heat and increase comfort in your home. Not every environment is ideal to curtains, drapes, or shades. This is where window film is most useful. It provides the same protection from the sun, but with less cost, easy application, and a cleaner look that allows you to gaze out the window. Window film cuts down on glare while still offering you privacy. Window film can easily be removed and replaced.
Contemporary Design
Frosted window film comes in a variety of strengths from light fog to wholly opaque. With Gator Blinds you can have your window film created and designed to your exact specifications. Choose from colors, designs, textures, and shade level. With custom designing you can get window film that perfectly matches your entire room while creating an entirely different atmosphere. Window film gives you the authentic look of specialized items like frosting or etched glass but without the permanency which gives you flexibility in the long run.
Ultimate Savings
One of the most instantly noticeable benefits of window film is that it controls the amount of light and heat that invades your interior. You can choose the level of tint and shade that you prefer. Window film also adds another layer of insulation around your window area. This keeps your air conditioner from working as hard in order to cool your home, thus making it more energy efficient. You'll notice a difference in your utility bill each month. The sun's harmful UV rays can penetrate through your window and damage your furniture. Prolonged exposure can lead to the rays fading your rugs, carpet and other upholstery around the home. Film blocks the rays from damaging everything inside your home.
St. Petersburg Shutter Company Provides These Services
Windows
Window Films
Window Tint
Window Film Installation
Window Tint Film
Install Window Film
Glare Reducing Film
Window Tinting
Protective Film
Vinyl Film
Privacy Window Film
Tint Film
If you are looking for a St. Petersburg shutter company for window films then please call Gator Blinds at 813 776 4889 or complete our online request form.
Recent Articles
Are you looking beyond blinds, shades, and shutters and considering layering? This write-up tells you what layering does to your décor and how it adds to functionality. It adds dimension and brings style into your space. Privacy and light control functions go to the next level also. The most combination …

Continue reading "Layering – What is, and will always be, in trend in Window Covering"

The market is full of options for window coverings. There are options to suit modern, traditional, contemporary, décor, and window shapes – octagonal, triangular, round, size, etc. Choosing the window treatment is more than matching them with the room aesthetics; they must also serve the functional purpose. Solar Shades are …

Continue reading "Solar Shades offer the best Insulation"