Best Quality Faux Wood Blinds in St. Petersburg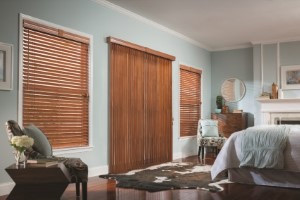 Our fully customizable faux wood blinds are an elegant and low-cost choice for your home. We offer a wide variety of features including extended shutter-style slats and conventional 1 and 2 inch blinds available in numerous colors and patterns. Do you want to make sure that you get the right faux wood blinds every time? Visit our showroom today and let us help you explore all the different options available to you. At Gator Blinds we offer comprehensive service from start to finish. Pick out your faux wood blinds and then let our crew professionally mount your new blinds right onto your wall. With Gator Blinds, our St. Petersburg shutter company does it all.
Distinctive Faux Wood Construction
Transform your entire room environment with decorative faux wood blinds. Faux wood is made from sturdy PVC and are designed to be water-resistant and heat-resistant. Unlike natural wood, they will not fade, crack, rust or warp. So no matter what the temperature or weather outside, faux wood blinds hold up well over long periods of time. These unique products have an wood grain that is imprinted directly onto the slat in order to give it an authentic look. They are easy to operate and look amazing when mounted inside your window frame. The white faux wood blinds matches flawlessly with painted trim for a professional and complete look.
Complete Delivery and Installation
At Gator Blinds we do more than just offer great window covering. We also provide full delivery and installation of all our products. Rather than spending hours and needless money with a DIY project, get your faux wood blinds mounted by a professional. We provide fast, dependable and affordable delivery and installation of all your new wood blinds. With a professional, your wood blinds will get a sturdy mounting with a clean finish so that your wall is not stained or damaged in the process. All installations are performed to your exact specifications and all blind sizes and dimensions fit your windows perfectly.
We Are St. Petersburg's Premier Window Company
With all the companies out there that claim to have great window covering, it can be confusing find a company with knowledge and expertise. When you hire Gator Blinds, you get a team of professionals with 15 years of direct window covering experience. You also get the advantage of having options that you can't find by buying generic blinds in a department store. Our products are made from the highest quality materials from a provider that takes the time out to give you exceptional personal service. Investing in window covering doesn't have to be a hassle. At Gator Blinds we make it easier than ever. We are the wood blind specialists in Southeast Florida.
St. Petersburg Shutter Company Provides These Services
Faux Wood Blinds
Custom Faux Wood Blinds
Cordless Faux Wood Blinds
Faux Window Blinds
Vertical Faux Wood Blinds
Faux Wood Blinds
Faux Vertical Blinds
Dark Faux Wood Blinds
Faux Wood Blind Installation
Faux Wood Blind Company
St. Petersburg Faux Wood Blinds
Faux Wood Blinds in St. Petersburg
If you are looking for a St. Petersburg shutter company for faux wood blinds then please call Gator Blinds at 813 776 4889 or complete our online request form.
Recent Articles
Are you looking beyond blinds, shades, and shutters and considering layering? This write-up tells you what layering does to your décor and how it adds to functionality. It adds dimension and brings style into your space. Privacy and light control functions go to the next level also. The most combination …

Continue reading "Layering – What is, and will always be, in trend in Window Covering"

The market is full of options for window coverings. There are options to suit modern, traditional, contemporary, décor, and window shapes – octagonal, triangular, round, size, etc. Choosing the window treatment is more than matching them with the room aesthetics; they must also serve the functional purpose. Solar Shades are …

Continue reading "Solar Shades offer the best Insulation"