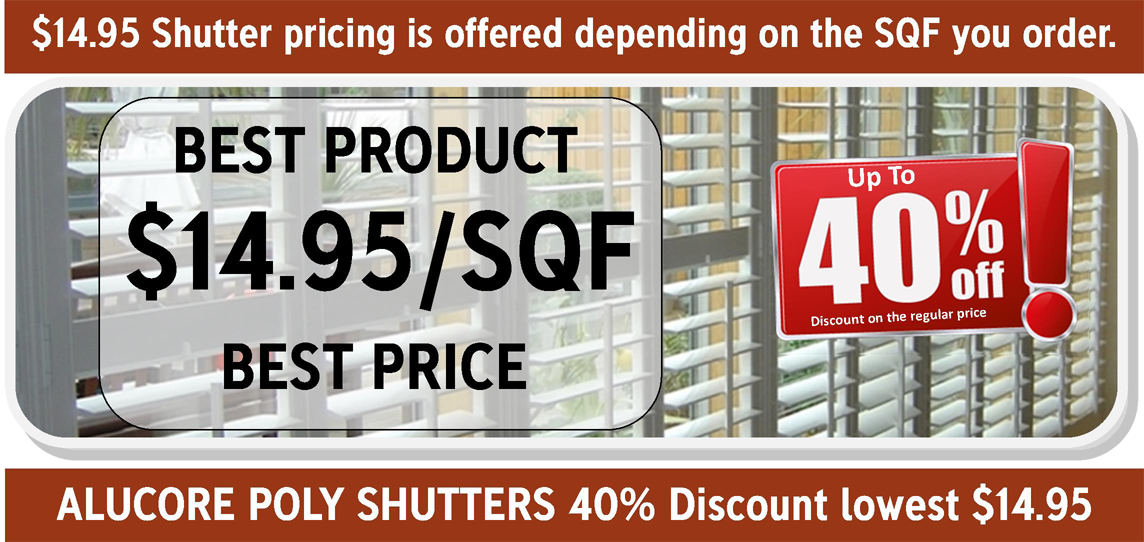 Window Shutters in St. Petersburg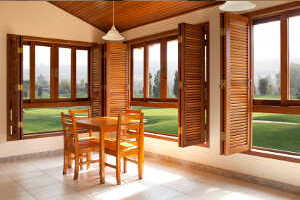 As the top St. Petersburg shutter company, we offer quality brand name shutters with distinctive designs and styles that truly enhance your room. Visit our showroom today and sit down with our window treatment specialists. We are committed to providing you with innovative window designs while creating a room that accurately reflects your personal taste and style, and shows off just how forward thinking you are. We can show you samples of all types of shutters including different materials and sizes. When it comes to choosing shutters, you don't have to go it alone. Partner with us to find the perfect shutters for your St. Petersburg home or office.
Authentic Natural Wood
With a distinctive authentic look, real wood, and a wide selection of paints and grooves, natural wood shutters are a popular choice for many homeowners in Southeast Florida. Natural wood allows air to pass quietly without moving around. This gives you a more serene environment while enjoying the scenery. Natural wood offers complete privacy, light and air control. With all the features and benefits available to you it's easy to see why Natural Wood Shades from All About The Windows ranks high among our most popular products.
Innovative Poly Shutters for Your Home
If you're looking for a completely unique approach to shutters, then check out our selection of Poly shutters. Poly is a synthetic material with built with a strong aluminum center. The paint is professionally applied and imprinted onto the surface. This creates both a fire and moisture resistant finish. This also makes them a great option for heat and cold insulation. Poly shutters are designed to last for several years and even hold up to daily family activity. You'll also love how easy they are to clean and maintain.
Try Wood Composite Shutters
Composite wood shutters from Gator Blinds are built from a core blend of wood and other sturdy materials. This makes wood shutters impervious to water and moisture. Composite shutters will not chip, crack, or warp. They have a beautiful lasting finish that will not fade in the sunlight. Composite wood shutters are a more affordable alternative to real wood shutters and they require less maintenance. They effectively block the suns harmful UV rays and keep your room cool. Wood Composite shutters are cordless, which makes them a safe option in your home.
Great Window Covering Selection
Whether you desire plantation, wood, composite or vinyl shutters, you'll discover that their simple design and flexible construction enhance any room. We can custom build shutters any window shape or dimension. You can get also get really creative and design your shutters to be any color or any dimension you wish. Whether you like traditional classic styles or are looking for a more modern bold look, you can find the right shutters that perfectly accent your home or business interior.
St. Petersburg Shutter Company Provides These Services
Shutters
Interior Shutters
Exterior Shutters
Wood Shutters
Window Shutters
Vinyl Shutters
House Shutters
Custom Shutters
Louvered Shutters
Wooden Shutters
Outdoor Shutters
Indoor Window Shutters
If you are looking for a St. Petersburg shutter company for shutter services then please call Gator Blinds at 813 776 4889 or complete our online request form.
Recent Articles
The market is full of options for window coverings. There are options to suit modern, traditional, contemporary, décor, and window shapes – octagonal, triangular, round, size, etc. Choosing the window treatment is more than matching them with the room aesthetics; they must also serve the functional purpose. Solar Shades are …

Continue reading "Solar Shades offer the best Insulation"

To answer this, we should first understand how energy efficient window treatments work. We know that they are excellent in controlling temperatures, there are two elements that cellular shades work on to maintain optimum temperature. Insulation: In winter months, have you ever noticed no matter how much we try, there …

Continue reading "Do energy efficient window treatments really work?"