Best Window Blinds, Shutters Cleaning Service in St. Petersburg, FL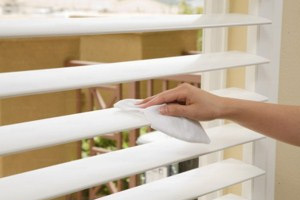 Over time your both your windows and your blinds become dusty, discolored, and downright dirty. Although it's tempting to undertake a DIY project, the smart choice is to call Gator Blinds. At Gator Blinds, we specialize in professional window treatment cleaning and restoration. Our services extends to all windows and window products such as shades, blinds, draperies, shutters, window film, and complete window service both inside and out. With Gator Blinds you receive comprehensive cleaning service from start to finish. Let our St. Petersburg shutter company professionals get your window covering clean while producing amazing results that you can depend on.
Benefits of Professional Cleaning
Lighting dusting of your blinds on a routine basis is recommended in keeping your blinds looking good all year long. When it's time to get a deep cleansing, however, professional cleaning is preferred, however, due to the sensitivity of the shades, shutters, or blinds in your home. Custom designed blinds such as woven wood and natural wood is made from quality sensitive materials that are not conducive to most household chemicals and cleaning methods. This is especially true with novelty blinds such as wood woven or even window film. Only a professional will know the right solutions and techniques appropriate for proper window treatment. Contact Gator Blinds today and let us help you with your blind cleaning and other window covering products.
Premier Window Cleaning Service
At Gator Blinds, our team of cleaning technicians will keep your windows spotless both inside and out. We offer full window treatment for both residential and commercial properties. We are known in St. Petersburg and the surrounding South Florida area for our efficient service, dependable work, and affordable rates. When it comes to your home or office windows you want to hire a company that you can depend on. So why not go with the experienced professionals? Contact Gator Blinds today and schedule a free on-site consultation. We clean all types of windows in for all types of buildings.
Our Comprehensive List of Window & Blind Cleaning Services Includes:
Window Cleaning
Blind Cleaning
Shades, Shutters & More
Interior & Exterior Window Washing
Office Windows
Home Windows
Why Choose Gator Blinds to Clean Your Windows
When it comes to professional blind & window cleaning service, go with a name you can trust. At Gator Blinds we are dedicating to providing each of our clients with the highest rate of customer satisfaction anywhere in Southeast Florida. We understand the needs of both home and business owners and work hard to gain your trust and your business. Our rates are competitive and our team is Florida licensed and certified in all types of window and window treatment cleaning. With Gator Blinds there's no hassle and no guesswork. Just straight talk and straightforward service. Call us and let us help you get your windows professionally cleaned today!
St. Petersburg Shutter Company Provides These Services
Window Cleaning
Blind Cleaning
Window Washing
Window Washers
Blinds Cleaning
Window Cleaner
Clean Windows
Blinds
Clean Blinds
Window Blinds
Home Windows
Cleaning Service
If you are looking for a St. Petersburg shutter company for window & blind cleaning then please call Gator Blinds at 813 776 4889 or complete our online request form.
Recent Articles
Are you looking beyond blinds, shades, and shutters and considering layering? This write-up tells you what layering does to your décor and how it adds to functionality. It adds dimension and brings style into your space. Privacy and light control functions go to the next level also. The most combination …

Continue reading "Layering – What is, and will always be, in trend in Window Covering"

The market is full of options for window coverings. There are options to suit modern, traditional, contemporary, décor, and window shapes – octagonal, triangular, round, size, etc. Choosing the window treatment is more than matching them with the room aesthetics; they must also serve the functional purpose. Solar Shades are …

Continue reading "Solar Shades offer the best Insulation"