Window Covering Sales & Installation in South Pasadena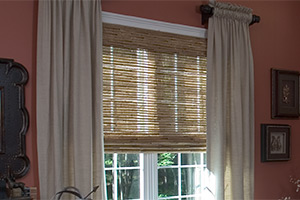 At Gator Blinds we offer the most innovative window treatment products anywhere in Southeast Florida. With 15 years of professional industry experience we have built a reputation as South Pasadena premier blinds, shades, and shutters, company. Visit our showroom today and let our window treatment team help you discover the right window covering for your home or office. Don't settle for store bought window treatment ever again. Get custom window products from your St. Petersburg shutter company that truly reflect your personal taste and style at prices that you can afford. Plus you get the added benefit of full delivery and installation service that other companies don't provide.
Authentic Wood Blinds
We carry a large selection of authentic wood blinds that give your environment a completely natural feel. Wood blinds are available in a variety of stain finishes with real wood grooves. Our wood blinds are made from 100% North American hardwoods. Wood blinds provide exceptional insulation because of the strong wood construction. This also makes them great for giving ultimate privacy.
Sturdy Faux Wood Blinds
Faux wood blinds exhibit the natural qualities of real wood, but are constructed from a wood composite and PVC/vinyl material. The benefits of faux wood blinds is that they will not crack, warp, or fade. They are easy to clean and much easier to maintain than real wood.
Quality Shades for Your Home
If you're looking for variety, then shades is your best bet. Shades are available in a huge variety of decorative and functional styles. They provide complete coverage for ultimate shading and privacy. Our most popular shades are pleated shades, woven wood, bamboo, solar shades, and cellular shades. Discover the distinctive benefits of each.
Real Woven Wood Shades
Woven wood shades are assembled from completely organic materials. This makes them environmentally friendly and while give your room the authentic, timeless look you've always desired. Woven wood is constructed from recycled products such as bamboo, jute, grass, and wood. They generally provide only partial shade, but effectively block harmful UV rays. Allowing partial sunlight creates a nice warm environment that is perfect for back decks or Florida rooms.
Window Film
If you are looking for a more modern approach to window decor then check out window film. Rather complete covering up your entire window frame, window film is a transparent protective film which is attached directly to your window by an adhesive. Window film gives you the same protection from the sun while giving you a full panoramic view outside your window.
Luxurious Draperies
Draperies have enjoyed long standing popularity with homeowners for decades. With draperies you get a wide selection materials, colors, patterns, and prints. Draperies give your room depth and contour that can't be found with shades, shutters, or blinds. Of all the window coverings, they still provide the best protection from the light, heat, and give you unmatched privacy.
Professional Window Treatment Services in South Pasadena
Shutters
Poly Shutters
Wood Blinds
Faux Wood Blinds
Shades
Woven Wood Shades
If you are looking for a South Pasadena shutter company providing window treatments then please call 813 776 4889 or complete our online request form.
Recent Articles
Are you looking beyond blinds, shades, and shutters and considering layering? This write-up tells you what layering does to your décor and how it adds to functionality. It adds dimension and brings style into your space. Privacy and light control functions go to the next level also. The most combination …

Continue reading "Layering – What is, and will always be, in trend in Window Covering"

The market is full of options for window coverings. There are options to suit modern, traditional, contemporary, décor, and window shapes – octagonal, triangular, round, size, etc. Choosing the window treatment is more than matching them with the room aesthetics; they must also serve the functional purpose. Solar Shades are …

Continue reading "Solar Shades offer the best Insulation"