Quality Window Treatment for Your East Lake Home or Business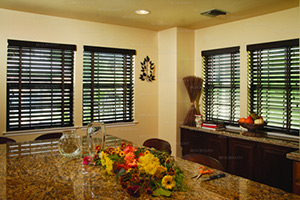 Since 1991 Gator Blinds has provided quality shades, shutters, and blinds for both home and business owners across East Lake and the surrounding Southeast Florida area. We are a comprehensive window treatment company that does it all. Our St. Petersburg shutter company services include custom window treatment design and ordering, consulting, product delivery and complete installation. You get full service from start to finish. We carry a wide selection of shutters, blinds, shades, window film, draperies, and commercial window treatments. Why go anywhere else, when Gator Blinds can take care of all your window needs? Visit us today and let us help you beautify your East Lake interior.
Great Window Treatment Products
The choices for decorative window covering are endless. Whether you desire plantation, wood, composite or vinyl products, you'll find that their design and craftsmanship complement every room in your home or office. We can custom design your products for arched, round and other various window shapes. You can let your imagination run wild and design your shutters to be any color or any dimension you wish. Whether you like traditional classic styles or are looking for a more modern bold look, you can find the right shutters that perfectly accent your home or business interior.
Discover Poly Shutters
Poly shutters are some of the most distinctive shutters on the market today. Poly is a synthetic material with a sturdy aluminum core. The paint is professionally applied by being implemented onto the surface. This creates both a fire and moisture resistant finish. This also makes them a great option for heat and cold insulation. Poly shutters are designed to last for several years and even hold up to daily family activity. You'll also love how easy they are to clean and maintain.
Full Installation is available.
We provide full product delivery and installation for your brand new shutters. We cover everything from helping your custom order your shutters and getting the right dimensions, to delivering everything right to your doorstep, and, finally installing your brand new blinds, shades, or shutters according to your exact specifications. When the job is done you have brand new products that add the perfect finishing touch to your room. With Gator Blinds, you get complete service from start to finish.
Why Choose Gator Blinds
For over 20 years we built a solid name as a company that home and business owners turn to for superior service and high quality window products that last. We are Florida certified and licensed. Our East Lake shutter specialists are highly trained and knowledgeable in the entire window covering field. It is our desire to bring you absolute satisfaction in both our customer service and in the window covering that you invest in. Contact us today and let us help you find the right shutters, shades, or blinds for your residential or commercial interior.
Professional Window Treatment Services in East Lake
Shutters
Poly Shutters
Wood Blinds
Faux Wood Blinds
Shades
Woven Wood Shades
If you are looking for a East Lake shutter company providing window treatments then please call 813 776 4889 or complete our online request form.
Recent Articles
Are you looking beyond blinds, shades, and shutters and considering layering? This write-up tells you what layering does to your décor and how it adds to functionality. It adds dimension and brings style into your space. Privacy and light control functions go to the next level also. The most combination …

Continue reading "Layering – What is, and will always be, in trend in Window Covering"

The market is full of options for window coverings. There are options to suit modern, traditional, contemporary, décor, and window shapes – octagonal, triangular, round, size, etc. Choosing the window treatment is more than matching them with the room aesthetics; they must also serve the functional purpose. Solar Shades are …

Continue reading "Solar Shades offer the best Insulation"