Quality Window Covering Products in Clearwater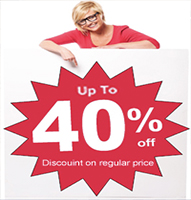 At Gator Blinds we specialize in providing industry leading window covering for all homes and businesses in Clearwater and the Southeast Florida area. With nearly 25 years of professional experience as a St. Petersburg shutter company, we have built a reputation as Clearwater premier blinds, shades, and shutters, company. Visit us and let our experts help you pick out the right window covering for you. With all the colors, designs, and features available on the market today, you can feel confident that you will find a window product that perfect accents every room in your home or office.
Beautiful Shutters in Clearwater
Nothing creates the mood quite like natural wood shutters. They provide an elegance unlike any other with warm tones and neutral colors. You can choose from shutters built into your window's framework, exterior shutters, or shutters that are install inside the home. We carry louvered shutters, plantation shutters, raised panel and even shaker style shutters. Ask us about our wood composite shutters as well! For a completely different type of shutter, we suggest that you discover all the advantages of Poly shutters. Poly shutters are solid synthetic plantation shutters that contain a sturdy aluminum core. The aluminum core is the strongest of any type of window covering frame and provides many years of enjoying your shutters.
Check out Our Blinds!
Do you like the look and feel of natural wood blinds? We carry a large selection of authentic wood blinds. Wood blinds are available in a variety of stain finishes with real wood grooves. Our wood blinds are made from 100% North American hardwoods. Wood blinds provide exceptional insulation because of the strong wood construction. This also makes them great for giving ultimate privacy. If you want the benefits of wood blinds but with a more durable and affordable option, then faux wood blinds are the way to go. Faux wood blinds look like the real thing, but are built from wood composite or PVC/vinyl material. The advantage that you'll have with faux wood blinds is that they will not crack, warp, or fade.
Different Shade Options
Of all the types of window covering on the market today, shades provide the most options and features. Shades are available in a huge variety of decorative and functional styles. They provide complete coverage for ultimate shading and privacy. Our most popular shades are pleated shades, woven wood, bamboo, solar shades, and cellular shades. Woven wood shades are built from 100% all natural organic materials. This makes them eco-friendly and while completing the all natural design of your room. With solar shades you get a unique experience all your own. The primary function of solar shades as a barrier against solar heat by blocking the suns UV rays. This helps you reduce the temperature in the room and helps your air conditioner to operate more efficiently which saves you money.
Window Film Is A Great Choice
If you are looking for an alternative to traditional window treatment, then window film may be the answer. Rather complete covering up your entire window frame, window film is a transparent protective film which is attached directly to your window by an adhesive. Window film gives you the same protection from the sun while giving you a full panoramic view outside your window.
Professional Window Treatment Services in Clearwater
Shutters
Poly Shutters
Wood Blinds
Faux Wood Blinds
Shades
Woven Wood Shades
If you are looking for a Clearwater shutter company providing window treatments then please call 813 776 4889 or complete our online request form.
Recent Articles
Are you looking beyond blinds, shades, and shutters and considering layering? This write-up tells you what layering does to your décor and how it adds to functionality. It adds dimension and brings style into your space. Privacy and light control functions go to the next level also. The most combination …

Continue reading "Layering – What is, and will always be, in trend in Window Covering"

The market is full of options for window coverings. There are options to suit modern, traditional, contemporary, décor, and window shapes – octagonal, triangular, round, size, etc. Choosing the window treatment is more than matching them with the room aesthetics; they must also serve the functional purpose. Solar Shades are …

Continue reading "Solar Shades offer the best Insulation"